I'm excited to announce that I am a new DT member for Scrapalicious!! This store not only carries great products but I love the prices.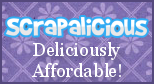 Some of my favorite items in the
Scrapalicious store
are:
Spellbinder's dies
,
Copic Markers
,
Magnolia stamps
, and
My Mind's Eye papers
!!!
Congrats to the other gals on the DT!
Shelley T.
Sherry B.
Marlene G.
Victoria
Here is the
DT blog
so you can follow. We will be having bi weekly challenges!!
Also, I wanted to let you know I was having a sale on this super cute
'Whoo Loves You' necklace
over at Gigi's petals